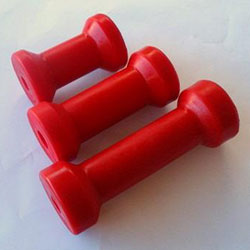 Manufacturers of Polyurethane Concave Rollers
Polyurethane Concave rollers are used for boat trailers. Our concave rollers are manufactured from the highest grade materials.

We design and manufacture Polyurethane concave rollers. They come in various sizes 6", 8", 12", and 12" HD to meet the varying demands of clients.

They are made from polyurethane, a material that is tough and durable but has the elastic quality of rubber. They are built to withstand tough conditions without compromising their efficient performance. Unlike plastic or rubber rollers, they will not tear or snap.

Our concave rollers are supplied to suit specific pin sizes. Pin size can be changed to meet your requirements. Polyurethane concave rollers offer high impact resistance, flexibility, elastic memory, noise reduction, and are resistance to oil, ozone, low temperatures, radiation, and corrosion. Precision rollers are also available as: concave roller, convex roller, straight roller, hubbed roller, v-groove roller, bearing cover, coated bearing, bushing, and more.