Polyurethane Wheels Manufacturer
Polyurethane Wheels:
Available with us are wide assortment of Polyurethane wheels made of high quality  Polyurethane. Our wheels are widely used to provide easy manual mobility to heavy loads. Moreover, these wheels are available in varied sizes. Our products bear great wear and tear resistant ability and high durability. Further, these products can be custom made as per specifications described by clients.
Polyurethane Wheels
We are engaged in manufacturing an extensive range of
Polyurethane Wheels
, available in range from 50x20mm to 200x50mm. These USR polyurethane presses on bonds are manufactured for heavy duty wheels and casters. Our wheels are widely used in machine shop floors & heat metal forging plants, and provide a multiple dynamic load lifetime as compared to rubber. 
Low on noise
Abrasion resistant
Low rolling resistance
High load carrying capacit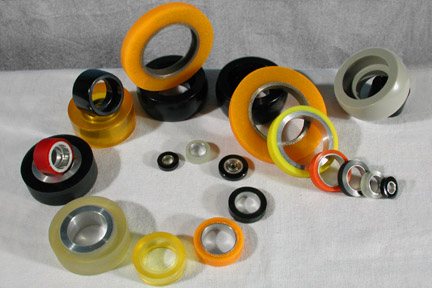 Applications:

Pallet trucks.
Stackers.
Manipulators.
Fork lift tyres.
Fricition wheels.
Roller skate wheels.
Wagon wheels.
Rotators.
Small bearings.

Features:

low wear and tear.
High load bearing capacity.
Low rolling resistance.
Non-marking.
Resistant to oil, grease & chemicals.
Wide temperature stability(-40c to 80c)
Strong bonding with various insert materials
Typically, wheels are made of a thin coating of polyurethane of any hardness, bonded to metal hubs. Typical applications of wheels are used for escalators and elevators.
LATEST NEWS & EVENTS
Expansion- Jan 2012 Every Business' objective and dream is to grow and expand. Business visibility to the market it serves by branching out due to the business growth is very critical in its marketing initiatives. As business and operations grow, the infrastructure also needs to adapt to the operational needs growth . "With the combined expertise and financial strength of our group behind us, we will continue to move forward with our aggressive build-out program in the rich area of Polyurethanes, so that we can provide the product to high-­value markets,"